10 Tips for Preventing Electrical Problems While Making the Season Bright.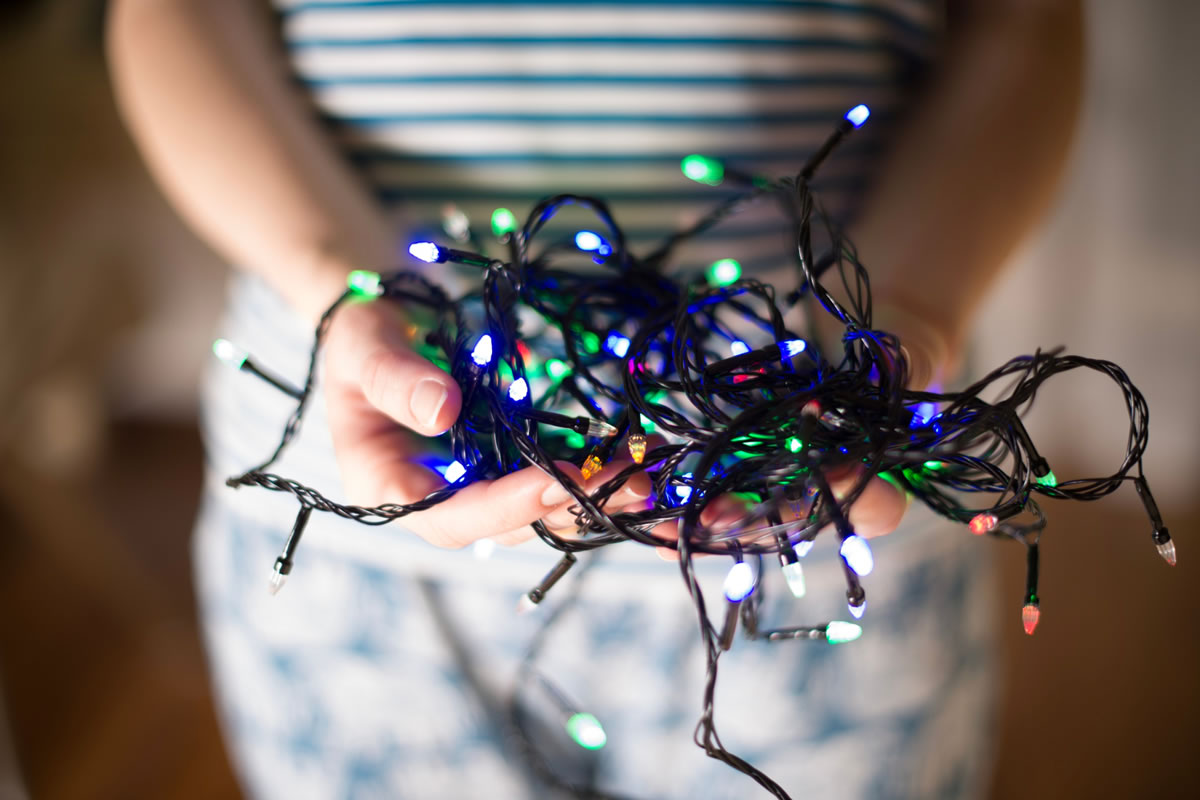 It is extra important when hanging your holiday light display to keep safety in mind. Millions of homes across the United States use holiday lights to make the season a little bit merrier, decorating trees, homes, and sometimes even cars with holiday lights.
Safety First
This part of making the season bright does not come without risks, though. Electrical shorts, falls, and electrocution are all real possibilities. With the proper safety practices and plenty of preparation, you can avoid any dangerous situations while decorating for the holidays. Electricians in Orlando, FL, offer some great tips:
Use the right outlets
Ground fault circuit interrupter outlets will shut the circuit down if too much current is flowing through and help prevent fires. If your outlet is a GFCI, it will have a reset and test button in the center. If not, you can purchase portable GFCI outlets from home improvement stores. They also come in a waterproof version.
Mind your cords
Running extension cords through windows or door cracks is a big No-No during the holidays. The cord could become pinched and ruin insulation around the wires, leading to a nasty shock.
Prevent tripping hazards
Using anchoring pins or ground staples to secure extension cords to the ground on either side of a walkway can prevent tripping hazards. This act involves simply threading the cord through the middle and then pushing the ends of the pain or staple into the dirt. If you have wire hangers, a pair of pliers, and wire cutters around your house, you can make your own staples in a pinch. Just cut 8 inches of wire and bend it into a u shape.
Elevation
Keeping light strands off the ground is essential, too. Using light stakes from your home improvement store is a great addition. You stick them in the ground, and the lights clip to the top of the stake.
Keep cords dry
Avoid letting your cords stay on the ground. It is crucial to ensure that where the light cord and extension cord meet, there are no puddles, damp soil, snow, or ice that may cause shocks or electrical shorts.
Use the right cord
It's important to know if a cord is rated for outdoor use or indoor use. Indoor use extension cords are not meant to be used in cold or wet environments and can cause shorts or shocks that nobody is a fan of.
Use weatherproof lights
If you live in a wet area, make sure that the lights you purchase are labeled as waterproof. Also, look for the UL seal. The seal means that lights meet the industry standards of the American National Standards Institute.
Choose the right ladder.
When decorating the exterior of a home, you commonly need a ladder to reach those high spots. The type of ladder that you use makes a difference. Metal ladders conduct electricity, which can lead to electrical shocks. The Electrical Safety Foundation International recommends using wooden or fiberglass ladders when hanging lights to avoid the risk of electrical shock.
Be aware of broken bulbs.
Broken or missing bulbs can lead to nasty cuts, fires, or even shocks. Therefore, it is crucial to fix busted string lights and change old ones before hanging lights on your tree or around your home.
Hanging Christmas lights is a holiday tradition that can help make the season joyful and bright. Our electricians in Orlando, FL, encourage you to be safe this holiday season while decorating your home or office.